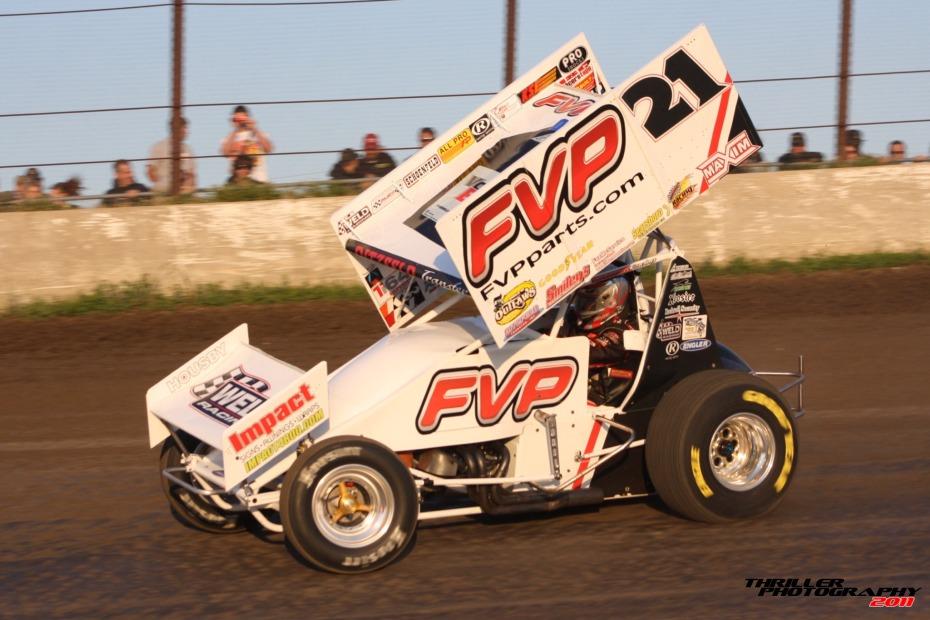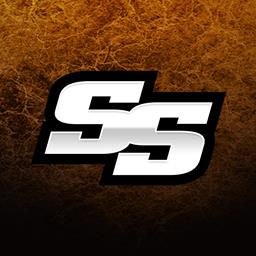 ---
Brian Brown – Dirt Racing!
(Bill W) May 9, 2011 – Even for veteran Brian Brown, the driver of the FVP #21 sprint car, the dirt in dirt track racing can get complicated sometimes. Racing with the World of Outlaws in Salina, Oklahoma it changed between hot laps and qualifying. At Knoxville Raceway on Saturday, it was the water on the low side of the raceway that affected his qualifying effort. He rebounded for a pair of solid efforts despite fighting an uphill battle after time trials.
The race on the Salina Highbanks Tuesday, Brian would register the 14th quick time of the night amongst a stout 27-car field. "It's tough to just jump in and race with the Outlaw guys," he says. "They can adapt to changes in the track so quickly. I think we were eighth quick overall in hot laps. Not thinking ahead, we kind of left the car the way it was. That was the difference in us making the heat invert, and not making it."
Starting fifth in his heat, the Grain Valley, Missouri driver finished outside of a transfer, and had to qualify for the main event through the B. "To be in contention, you have to stay up on the changes," says Brian. "If you miss the invert, and you are back in the third row of the heat, you are behind the 8-ball all night long."
Starting fourteenth in the feature, Brian worked his way to challenge for a top ten spot before a series of cautions hit. "We were up to tenth or eleventh, and we hit a double-file restart," he says. "Everyone just goes for broke on those. If you are running bad, it's a good way to gain a couple spots. If you are running well, it's a good way to lose some spots too. I had one good restart, and that one was called back for a jump. I was just in the wrong spot at the wrong time, and when you are there, they are like sharks and they attack."
He would finish fifteenth and come away with a new attitude towards the double-file restarts. "I think we'll be a lot more aggressive the next time we see them," says Brian. "I think you may have to sacrifice a front axle now and then, but sometimes you need to stick your nose in there where you don't need to."
A slip-up in qualifying on Saturday night in a 43-car IRA field saw Brian qualify 24th. "It was disappointing," he says. "We've qualified well for over a year now. It was nothing to do with the car or the crew. I just went down in there and hit the water and got sideways. We qualified later (in the order), and sometimes you sit there and think too much about your line. I got a little lower than I needed to be."
Brian was the last car to make the heat invert, and started on the pole in heat four. "You have to just keep plugging along," he says of his night. "We were pretty decent in the heat. I got a little complacent with a lapped car there on the last lap, and that gave (Donny) Schatz a chance to win. That's what he did. To be on pace with those guys, we need to race more than once a week."
The second place finish set him up in the main event, starting inside row ten. "We were tight early," says Brian. "It's tough when you are mired in the back, and someone is running low, and someone is running high in front of you. There's really nothing you can do until someone in front of you makes a move."
The FVP #21 gained momentum at the halfway mark and finished strong. "I think with eight to go, we were 14th and we ended up seventh," says Brian of his run. "We just got going really well. With five more laps, I think we could have hit the podium. Looking at lap times afterwards, we had the third best time, and that was on lap 18."
A late mechanical problem as Brian crossed the finish line arose. "We were glad to finish," he says. "I think we broke a U-joint or hurt a motor coming to the finish. It was good to finish and salvage something out of the night. We'll take a look at it this week and hope it was just a U-joint."
Brian and the team are still assessing their racing options for this weekend. Stay tuned to Brian's schedule at www.BrianBrownRacing.com!
Follow Brian and FVP Racing on Twitter, Facebook and Youtube!
The FVP marketing team has launched a Twitter page, a Facebook page (including Brian's GoPro In-car camera videos and FVP Racing Report), and a Youtube page (make sure to subscribe to all!) to keep up to date with Brian and FVP racing! You can become a fan and follow along by clicking on the links below:
Twitter: http://www.twitter.com/fvpracing
Facebook: http://bit.ly/2rakgn
YouTube: http://www.youtube.com/profile?user=fvpracing
Web site
For up to date information on Brian Brown, visit www.BrianBrownRacing.com!
T-shirts
To purchase Brian's new t-shirts, visit www.BrianBrownRacing.com!
Brian's Q&A
Jeff Ross asks: How much different are expenses on a race night when running a 360 compared to a 410?
Brian answers: Anymore, there isn't much difference at all. We try to go 8-10 nights on a 410 before we freshen, and 20-25 nights on a 360. In hindsight, you can go longer on the 360, on the smaller tracks anyway, but you are usually racing for a lot less money, so really it's a wash. At Knoxville, with the 410 you are freshening every 10 nights, racing for $3,000, and with the 360 you may get 20 nights, but you are only racing for $1,250. When you go to the gas station, they don't ask if you have a 410 or 360 in the trailer. Tires, wings and engines all cost the same.
Got a question for Brian? Send it to us at sprntcar@iowatelecom.net, and we may answer it in this section! Put "? for Brian" in your subject line.
Brown's Bits
Brian's 2006 win at Lake Ozark Speedway's 360 Nationals did not come easy. After Brian worked his way by (now Jacksonville Speedway promoter) Bobby Hawks for the lead, Jesse "The Rocket" Hockett came from deep in the field to battle for and take it himself. Brian came back on a late restart to make his winning pass, and won over Hockett, Hawks, Robbie Standridge and Foster Landon. The win came over a 61-car field.
FVP
We offer a full line of high quality oil, air, cabin air and fuel filters, plus a complete line of high quality batteries for multiple applications including cars, trucks, SUV's, commercial and other specialty vehicles. All products are made to OE manufacturer fitment specifications. FVP products are engineered to provide our customers with quality products that are equal or superior in performance to the major national brands at a competitive price. Visit us on the web at www.FVPparts.com!
SPLASH
Whether it's keeping your windshield clean or free of ice, protecting your RV, boat or pool from freezing in the winter, or your sidewalk safe to walk on, SPLASH Products are what you need! Check out our new SPLASH website at www.SPLASHWash.com!
Marketing Partner of the Week – Maxim Racing
Brian says, "Chuck and Karen Merrill are not only great people, but they put everything into putting the best car out on the market. I've always been a supporter of theirs, and with Brian Brown Racing, you'll always see their chassis."
Brian has been partnering with Maxim since 2003. After years of success as a car owner, Chuck Merrill started his chassis business in a rented three-bay garage in November of 1988. The first car was driven by Johnny Herrera at the Florida All Stars Sprint Week in February of 1989. By June of that year, Maxim moved into a 7,000 square foot facility. By 2001, Maxim had grown substantially producing 304 chassis that year. In 2002, Maxim moved to its present 12,500 square foot location in Springfield, Illinois. Maxim continues to offer their customers unmatched service and support, and currently has 17 quality employees, and builds over 400 chassis on an annual basis. Their world-famous "K-car" was designed for Steve Kinser, and has won ten Knoxville Nationals titles and fourteen World of Outlaws championships! To top it all, Maxim offers a warranty if you are not completely satisfied with your car. For more information on Maxim, visit www.racemaxims.com!Generation and Housby Motorsports. Visit www.Housby.com for more information!
Associate Marketing Partner of the Week – ISC Racer's Tape
Brian says – "When you are racing anything, things don't always go as planned. It's good to know if you have a hole, or something is not sticking down like you need it, that we've got a great partner in ISC Racer's Tape. We definitely put their product to use."
For more than 20 years, ISC Racers Tape has supplied a full range of tapes to the racing industry. From Daytona to Indianapolis, everyone uses Racers Tape. With research and testing done on our own race cars, they proudly design and manufacture useful tape products that really work. Browse around, and see what ISC Racers Tape can do for you. Visit them on the web at www.ISCRacersTape.com!
Brian would like to thank FVP, Searsboro Telephone Company, Impact Sign and Lighting, Champion Brands, SPLASH, Ditzfeld Transfer, Maxim Racing, Smiley's Racing Products, Weld Wheels, Housby Trucks, My State Insurance Rates, Arctic Cat, K&N Filters, Hostiowa.net, FSR Race Products, TI64, Fuel-Safe Tanks, Awesome Racewear, Wolfe Eye Clinic, Bell Helmets, CP Pistons, Carrillo Rods, A1 Mortgage, Rockwell Security, Paul's Auto Body Supply, Engler Machine, Vortex Wings, Ostrich Racing Engines, Penray, All Pro Cylinder Heads, Butler Built Seats, Rod End Supply, KSE Racing Products, Winters Performance Products, Santomauro Racing Products, Cometic Gaskets, Kaeding Performance, Donovan, Magtech, ISC Racers Tape, Racing Optics, Pro Shocks, Don's Truck Wash, Gardner Farms, Hoosier Tires, GoPro, XYZ Machining, Brown and Miller Racing Solutions, Peterson Fluid System, Red Devil Brakes, Schoenfeld Headers, www.Impact4800.com and WSIB Insurance for all their help!
---
Article Credit: Bill Wright
Submitted By: Bill Wright
Back to News