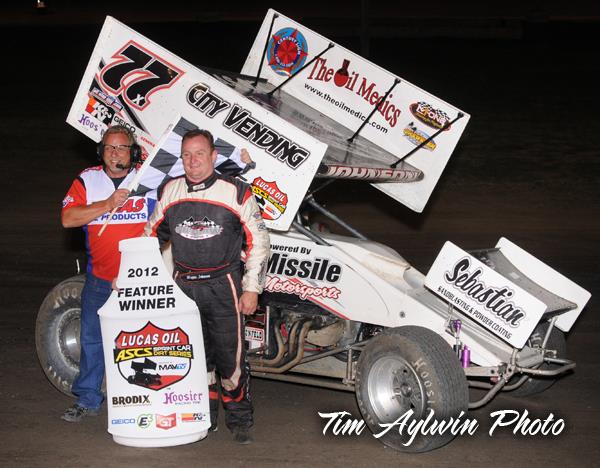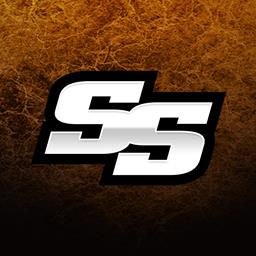 ---
Wednesdays with Wayne – Battered, Bruised and Still Winning!
(Bill W) May 2, 2012 – Even a nose broken in seven places can't keep Wayne Johnson down. Despite getting rocked in the helmet at the "Rock 'N Roll 50" in West Memphis, Arkansas Saturday night, he finished the race with a fifth place finish. That gives him a perfect record in the top 5 for the season! Oh yeah, and he picked up yet another win in Lucas Oil ASCS National Series competition Friday night at the Salina (OK) High Banks vaulting himself into the series point lead.
Friday night at Salina, Wayne drove from fourth to second in his heat. "We were really good there," he says. "Brian (Goscinski) from Super Shox showed up, and we tried a left rear shock that I'd never even run before. The car was amazing. We started fourth in the heat and ran second. Actually (Jack) Dover was more blocking us than racing us. But we ended up in the redraw anyway."
It was all over when Wayne drew outside of row one for the main event. He won the last two times ASCS has visited the High Banks. "We just took off and led every lap," he says. "We really didn't have any challenges. I don't know how many times we've won there, but I think it's more than three. I like that place. It's really fun."
The Knoxville, Iowa driver had some close calls in traffic. "It was slick to a curb and really fast," he says. "The average speed was around 117 m.p.h. The lapped traffic was pretty brutal. Some of them were quite a bit off the pace. It got ugly at times."
Riverside International Speedway played host on its quarter-mile Saturday night. Wayne backed up to fourth in his heat. "It was still greasy," he says. "The racetrack was really hard. The water sat on top of the track, and it took a long time to come in."
The top five in ASCS points found themselves in one of the twin B mains. Wayne was running second, and inherited the lead late. "It was pretty loaded to only transfer three," he says. "Brady (Bacon) was going to win it. He was a few car lengths out. I think we were going to finish second before his u-joint blew out."
Starting 18th in the main event, it took awhile to work towards the front. "We took off and passed a few cars, but then we got to a traffic jam," says Wayne. "There were five or six cars racing, and they had the track blocked. We just couldn't get through there. Finally, a couple of them messed up a bit, and I was able to get by those guys. I followed that group for around 14 laps."
Once by the jam, Wayne shot forward into the top five. Then he was hit hard in the face with a projectile that left him loopy. "We got to rolling after that, and got through there," he says. "(Johnny) Herrera got by me there at one point, and then I got hit. I was dazed and confused. Honestly, for three laps, I couldn't tell you how I got around there. The blood and the tears from getting hit in the nose, and getting the wind knocked out of me."
Wayne just aimed his #77x around the track until mercifully, a stoppage occurred. "I was just trying to follow Herrera," he says. "Just to make sure I wasn't going to run into anything. Then I got my senses a bit. Five or six laps later, the red came out for Gary Wright. I rolled to the infield to get an official to come take a look."
Wayne was not going to quit, and he finished fifth. "I jerked my helmet off, and he went and got the paramedics," he says. "They came over and told me to get out of the car and in the ambulance. I wasn't going to do that. I told them I have six laps to go. I told them not to do something, because I thought they may send me to the rear. Then Emmett (Hahn) showed up and told them to get me some gauze or whatever I need. Then he had them get me another helmet, because mine was cracked. That was kind of cool for him to do that. I thought I was restarting seventh, but I was actually fifth. There were two lapped cars, but I got to racing them pretty good."
Wayne will have to undergo surgery on his nose, so racing plans for this weekend are up in the air right now.
Follow Updates on Facebook!
Wayne will update as his race night goes on at his Facebook page. Find it by searching for Wayne Johnson Racing or clicking the following link…
http://www.facebook.com/#!/WayneJohnsonRacing
Outlaw Wings – "The Wing with an Attitude"!
Check out the new "recessed rivet" design put out by Outlaw Wings. Talk to Wayne about purchasing Outlaw Wings for your car! Outlaw Wings – "The Wing with an Attitude"!
Wayne's World
Andrew Young asks: You seem to be going well on the short tracks and the big tracks. Which do you prefer?
Wayne answers: I'm always a big racetrack guy it seems like, but it seems the little ones are working for us too. Our packages have been great with Super Shox and Maxim cars. I'm sharper than I've been in a long time. I'm healthy and I'm making good decisions with the racecar. You have to just keep it rolling at this point.
Got a question for Wayne? Each week, Wayne will answer your questions about "Tech Tips", or anything that's on your mind. If you ever wondered what a part on a sprint car is all about, send an e-mail to us at sprntcar@iowatelecom.net, and we may answer it in this section! Put "? for Wayne" in your subject line. He'll try to keep it clean if you do!
Wayne's Fast Facts
On August 15, 2008, Wayne started 18th at Jackson Speedway in a JSTS event. Wayne was able to make up positions early and move into third by lap four. He would take the lead from Billy Alley at the midway point for good. Following him to the checkers were Jake Peters, Alley, Gregg Bakker and Travis Whitney.
Partner of the Week – Speedway Motors
Speedway Motors is America's Oldest Speed Shop® and has been a trusted source for specialty rodding and racing products and friendly expert advice for 60 years. Founded in 1952 by "Speedy" Bill Smith – a racer and street rodder himself – Speedway Motors has grown from a one-man operation to become the world's largest manufacturer, distributor and retailer of street rod and racing products. Our industry-leading fast delivery is the result of same-day shipping from our state-of-the-art, centrally located 500,000 sq. ft. headquarters. Speedway Motors size offers customers unmatched product selection and low pricing, while our excellent technical support and customer service have made us a recognized leader in the rodding and racing industries. Visit them on the web at www.SpeedwayMotors.com!
"Wednesday's with Wayne"
"Wednesday's With Wayne" is an up close look at the past, present and future of colorful and talented sprint car driver Wayne Johnson. You'll never know what to expect next with Wayne, so don't miss us on Wednesdays!
To receive "Wednesday's with Wayne", send an e-mail to sprntcar@iowatelecom.net with "Wayne" in the subject line.
Wayne Johnson Racing would like to thank Vern Rengen and Missile Motorsports, Sebastian Sandblasting & Powdercoating, City Vending, Outlaw Wings, Team Achieve, The Oil Medics, Century Signs, Smiley's Racing Products, Hoosier Tire Southwest, Simpson, Butlerbuilt, Super Shox, Maxim, Speedway Motors, Rod End Supply, Schoenfeld Headers and RCM Design.
Attached: Wayne in Victory Lane at Salina (Tim Aylwin Photo)
---
Article Credit: Bill Wright
Submitted By: Admin Account
Back to News