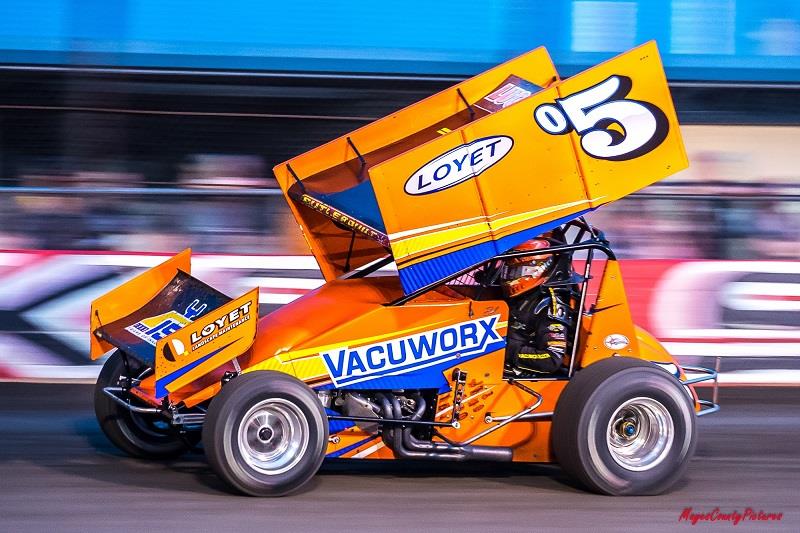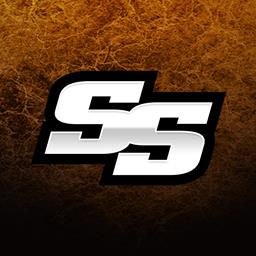 ---
Brad Loyet – Margin Extended with Strong Salina Run!
Brad Loyet and the Vacuworx/Miller Truck Lines #o5 pulled a tough night out of the ashes at the Salina High Banks in Oklahoma last Saturday night. The Lucas Oil ASCS National Series point leader extended his margin over Jason Johnson by driving from 13th to fourth in the feature event. This week will see the series visiting a couple of Brad's strongest tracks in recent memory. On Thursday, it will be Riverside International Speedway in West Memphis, Arkansas, while Friday will see the series moving on to the Lexington 104 Speedway in Tennessee.
After recent strong showings on the high banks, Brad anticipated success. "We went in with really high hopes," he says. "I think we've been in the top five every time we've been there in a 360. I thought I had a really good shot at winning."
The Sunset Hills, Missouri finished where he started (fifth) in the heat, however. "There weren't a lot of cars there, but it was a situation where we were stuck in the back of a heat race with the top five in points in front of us or in the race," says Brad. "That makes it harder to get passing points. With six or seven car heats, it's hard anyway."
The team went to work on the #o5 for the feature. "We had a new motor in the car," says Brad. "The air wasn't the best, and we hadn't run it at all. We couldn't get it to r.p.m. like we wanted. We did a little tuning between the heat race and the feature. That made a big difference."
Brad would start thirteenth in the main event. "The first two starts that were called back worked out awesome for me," he says. "I was able to get to ninth in those. Unfortunately, in the one that counted, we only got a couple of cars."
He would charge forward from there, however. "We had a good car," says Brad. "We just had a lot of yellows early that slowed us down. Jason (Johnson) and (Mike Goodman) got together, and that kind of took the pressure off us. Jason was running second and he was going to gain some points on us. He wasn't able to get back out, and we ended up gaining a lot."
Brad liked his chances after the red. "At that point, I was up to fifth," he says. "We were really good. At that point, I thought we had a chance to win. After that restart, something hit the nose wing post and broke it. It was laying up on the hood the rest of the race. That made it a bear to handle, but we were able to get it up to fourth."
Loyet Motorsports has their eyes on a championship with ASCS. "We had a talk at the shop," says Brad. "We want to win as many races as we can, but at the end of the day, to win the championship, you need to knock down top fives. We kind of made lemonade out of lemons at Salina. We weren't good in the heat, but we did what we had to do in the feature."
Brad is looking forward to "The Ditch" and Lexington. "We've been second and third in the 'Rock 'N Roll 50' (at 'The Ditch')," he says. "That's a racetrack, and I'm really looking forward to it. We led the entire race at Lexington a year ago, and we cut the right rear on something with about three laps to go. It's nice in the back of your head to go to places where you've been good in the past."
Brad's Weekly Releases
If you'd like to be added to Brad's e-mail list for weekly releases, e-mail sprntcar@hotmail.com with "Loyet" in the Subject Line.
Brad and the Loyet Motorsports team would like to thank primary sponsors: Vacuworx Global, Miller Truck Lines, and Loyet Landscape Maintenance. Associate sponsors: Maxim Race Cars, J and D Performance Racing Engines, Butlerbuilt Professional Seat Systems, Meramec Heights Collision Center, KSE Racing, Weld Wheels, Penske Shocks, Wilwood Disc Brakes, Hepfner Racing Products, DMI, Saldana Racing Products, Rod End Supply, Bell Helmets, TI 64, Conroy Control, The Engine Heater, Ealey Transportation, and Speedway Motors.
Attached: Brad at Salina (Mayes County Pictures)
---
Article Credit: Bill Wright
Back to News