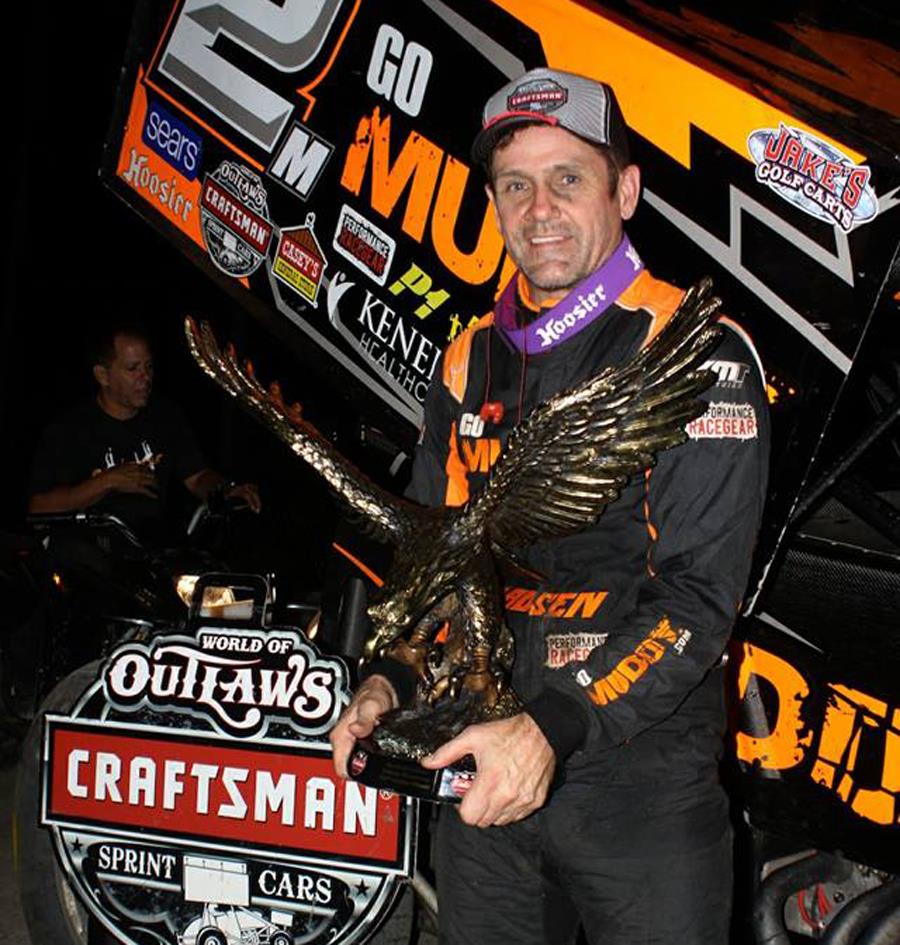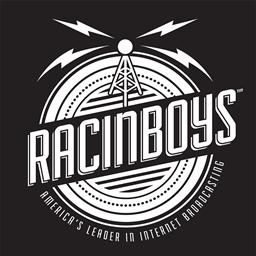 ---
Madsen rebounds at Salina Highbanks
By Anthony Corini, World of Outlaws PR (Salina, OK) -- Kerry Madsen had over an eight second lead last night at Lakeside Speedway before spinning in heavy lapped traffic. Tonight, the 'Mad Man' made sure he parked his GoMuddy.com No.2M where it belonged - on the frontstretch. In thrilling fashion, Madsen went from third to the lead in half a lap and went on to win his fifth World of Outlaws Craftsman Sprint Car Series Feature of the season. Donny Schatz and Brad Sweet completed the podium at the Salina Highbanks Speedway.
PHOTO CREDIT: Richard Bales photo
With severe weather looming in the area, the World of Outlaws Craftsman Sprint Car Series was in a race against Mother Nature all night. David Gravel won the Craftsman Club Dash, but blew up coming to the checkered. Gravel and his CJB Motorsports No.5 scrambled to swap motors before the Feature and did so successfully.
Gravel edged fellow front row starter Brad Sweet down the backstretch on the opening lap. Sweet went for the lead with a slide job into turn three and made contact with Gravel at the exit of turn four, ending the CJB No.5's evening.
"We were racing for inches at 130MPH and neither of us gave an inch," Gravel said post-race in regard to the incident. "There just wasn't enough room."
Sweet survived the incident unscathed and led the field back to Green. Sweet pounded the cushion through lapped traffic as Kerry Madsen and Shane Stewart waged war for second.
At the halfway point, Sweet was in heavy lapped traffic and Stewart had wrestled second from Madsen. Sweet split two lapped cars on lap 19 and had a straightaway of clear track ahead of him.
By this point, the Salina Highbanks crowd was on their feet and with good reason as there were cars all over the racing surface throwing slide jobs in every corner.
On lap 24, Kerry Madsen used a big run down the backstretch to get back by Stewart for second and then threw a huge slider on Sweet to take the lead down the frontstretch. Sweet tried to return the favor as Donny Schatz stuck himself in the mix as well. A blanket could have been thrown over the top four, as they battled for the race lead.
Race action was halted on lap 28 when RJ Johnson took a vicious crash into the frontstretch guardrail. Johnson was uninjured in the incident and walked away under his own power.
The Red Flag allowed fans and drivers alike to catch their breath and set up a single-file restart with two to go.
Madsen powered away on the restart and went on to score the victory. "We gave one away last night," the Australian said. "I'm glad I was able to put this car where it belongs. It is an absolute joy to drive every night."
"Salina is always exciting and I thought that was pretty exciting. I hope the fans did as well," Madsen added.
Schatz settled for second with Sweet completing the podium. "It's tough with a single-file restart with two to go, you almost are just hoping to hang on for second," Schatz said. "We'll come back and try and pick up a pair of wins next weekend."
Sweet led the first 23 laps and was understandably a little disappointed. "I was surprised I hit him. I was expecting him to turn back underneath me," he said in reference to the lap one incident with Gravel. "I'll have to go back and watch it."
Shane Stewart and Jason Johnson completed the top five.
The World of Outlaws Craftsman Sprint Car Series returns to action next weekend at the Dodge City Raceway Park before wrapping up the 2017 season at the Textron Offroad World Finals at The Dirt Track at Charlotte Motor Speedway.
Abbreviated Results from Salina Highbanks Speeway - October 21, 2017:
Feature (30 Laps): 1. 2M-Kerry Madsen [2][$10,000]; 2. 15-Donny Schatz [5][$5,500]; 3. 49-Brad Sweet [1][$3,200]; 4. 2-Shane Stewart [4][$2,800]; 5. 41-Jason Johnson [3][$2,500]; 6. 18-Ian Madsen [9][$2,300]; 7. 1S-Logan Schuchart [6][$2,200]; 8. 19-Brent Marks [7][$2,100]; 9. 93-Sheldon Haudenschild [8][$2,050]; 10. 9-Daryn Pittman [13][$2,000]; 11. 99-Brady Bacon [11][$1,500]; 12. 7S-Jason Sides [12][$1,200]; 13. W20-Greg Wilson [16][$1,100]; 14. 11K-Kraig Kinser [19][$1,050]; 15. 4-Parker Price-Miller [15][$1,000]; 16. 13-Clyde Knipp [18][$900]; 17. 17B-Ryan Bickett [20][$800]; 18. 71A-R.J. Johnson [14][$800]; 19. 17-Jac Haudenschild [10][$800]; 20. 1P-Curtis Evans [21][$800]; 21. 1A-Jacob Allen [17][$800]; 22. 5-David Gravel [22][$800]; 23. 3-Sammy Swindell [23][$800] Lap Leaders: Brad Sweet 1-22, Kerry Madsen 23-30; KSE Hard Charger Award: 11K-Kraig Kinser[+5]
Qualifying: 1. 2-Shane Stewart, 11.754; 2. 17-Jac Haudenschild, 11.766; 3. 2M-Kerry Madsen, 11.768; 4. 1S-Logan Schuchart, 11.794; 5. 15-Donny Schatz, 11.811; 6. 5-David Gravel, 11.821; 7. 41-Jason Johnson, 11.84; 8. 9-Daryn Pittman, 11.862; 9. 11K-Kraig Kinser, 11.876; 10. 7S-Jason Sides, 11.879; 11. 49-Brad Sweet, 11.887; 12. 93-Sheldon Haudenschild, 11.894; 13. 18-Ian Madsen, 11.924; 14. 19-Brent Marks, 11.971; 15. 3-Sammy Swindell, 12.018; 16. 4-Parker Price-Miller, 12.033; 17. W20-Greg Wilson, 12.153; 18. 99-Brady Bacon, 12.154; 19. 1A-Jacob Allen, 12.188; 20. 13-Clyde Knipp, 12.277; 21. 71A-R.J. Johnson, 12.367; 22. 17B-Ryan Bickett, 12.389; 23. 1P-Curtis Evans,
12.731
COMPLETE RESULTS: http://woosprint.com/results/2017-results/4793-10-21-17-salina-highbanks
---
Submitted By: Kirk Elliott
Back to News