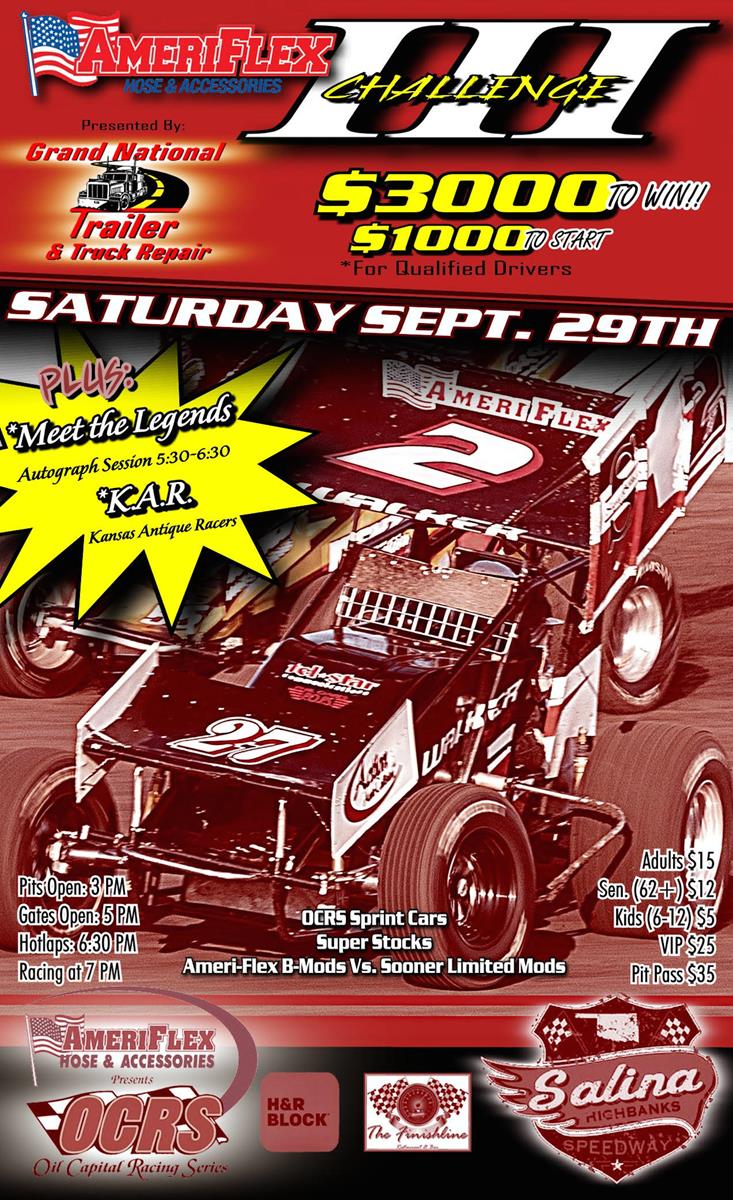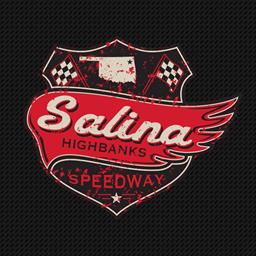 9/27/2018
Salina Highbanks Speedway
---
Ameri-Flex Challenge III Presented By Grand National Trailer GUARANTEES $3,000 To Win / $1,000 To Start!
John Lemon
OCRS PR
Tulsa Okla. (Sept. 12, 2018) - The big one is coming and its the "Ameri-Flex Challenge III Presented By Grand National Trailer" sprint car race to be held at the Salina Highbanks Speedway in Salina Oklahoma on Saturday September 29th. Sanctioned by the Oil Capital Racing Series, the 3rd running of this event will pay $3,000 to win with a GUARANTEED payout of $1,000 to start for all main event participants.
The AFC III event is open to all champ sprint teams that meet the rules of the OCRS series.
"After some discussions with Bryce Hall (Salina Highbanks promoter) and Corvan Robison (Ameri-Flex owner), it was agreed to make the starting purse for the main event a guaranteed $1,000 to start race for the full 20 car field. OCRS is very honored to have these gentlemen as partners and we just cant thank them enough for their support. With the racing legends on hand to provide a "Meet & Greet" session for the fans, This is going to be an outstanding program," stated series owner Barry Grabel.
In January, it was announced that champ sprint teams needed to make a required number of AMERI-FLEX / OCRS events to earn $1,000 to start with an adjusted amount to those those who made fewer races. With the revisement to pay all starters a guaranteed minimum of $1,000 to start, there are still 3 key benefits to those teams who attended a minimum of 6 races prior to the AFC III event.
They are as follows:
There will be two provisional positions available for the main event after a total of 8 cars have transferred from the semi main events. For "car owners" who's drivers do not transfer into the main event through the semi's, those provisional spots will go to the first two car owners and their drivers in the finishing order of the semi's that failed to qualify for the main event and competed in a minimum of 6 events with the series.
Note: If there are provisional spots not used by those car owners that made the required events, those provisionals will go to the next cars in line that did not transfer from the semi's. Any ties will be awarded to the driver that earned the most overall points from their heat race.
Top 10 drivers in "Passing Points" from their heat races are locked into the main event. The top 4 drivers for their "Car Owners" who made 6 prior events will re-draw pills 1 through 4 to determine those starting positions in the main event. The 4 highest remaining lock-in drivers in passing points will re-draw for starting positions 5 - 8 with 9th and 10th in passing points starting in those positions automatically.

There will be 5 "Contingency Packages" available to qualified car owners.
The packages consist of:
$100 Gift Card from Smiley's Racing Products
$100 Certificate from Maxim Racing
$50 Certificate from Rod End Supply
$50 Certificate from Amsoil (Grady Oil Co.)
These sponsor packages, along with the non-qualifier payout, will go to the first 5 qualified car owners that do not make the main event. If there aren't any car owners that meet this criteria (or there are some sponsor packages left), these will go into a draw for the qualified car owners that competed in the main event.
We wish to offer our sincere thanks to Devore Tax Service (dba H&R Block) for their sponsorship of this event along with the Finishline Restaraunt and the aforementioned contingency sponsors. Together with Ameri-Flex Hose & Accessories and Grand National Trailer, this has become the highest paying sprint car race in the state outside of the World of Outlaws.
Fans will not only see the Ameri-Flex / OCRS sprint cars, there will also be a B-Mod challenge event pitting the Ameri-Flex B-Mods vs. the Sooner Limited Mods along with Super Stocks and the historic racing cars from the Kansas Antique Racers (KAR). The group from KAR has some really cool racing cars that fans will get a kick out off.
PLUS.....
It will be "Meet The Legends Night" as drivers from the glory days will be on hand for autographs to start the night.
Shane Carson, Ray Crawford, Jerry Stone, Tommie Estes Jr, Derrill Brazeal, Terry Doss, Bob Waller, Jack Wickett and more to be announced will be on hand to "Meet & Greet" the fans from 5:30pm - 6:30-pm.
If race teams have any inquires to the Ameri-Flex Challenge III format, contact Barry Grabel (918) 260.3899 or John Lemon (918) 850.5341
We will see everyone at the Ameri-Flex Challenge III.
Do not miss this one!
About the Ameri-Flex / OCRS Series -
Established in 2002, the Tulsa OK based Ameri-Flex / OCRS series sanctions dirt track sprint car racing in the southern region of the central plains. Fan appeal and quality race teams, combined with our solid core of supporting sponsors are the nucleus of the series. Thrilling competition providing the ultimate quality family entertainment is the essence of what the Ameri-Flex / OCRS series is all about.
Website: www.ocrsracing.net
Facebook: www.facebook.com/oil.series
About Ameri-Flex Hose & Accessories -
Located in Tulsa OK, Ameri-Flex Hose & Accessories is a family owned and operated company. From food grade hose to hoses for the petroleum industry, Ameri-Flex will strive to fill your needs. Ameri-Flex can build a hose to your specifications or we will assist you in creating what you have designed while you wait. Ameri-Flex has several hard to find items that some vendors can't get or find. Product can be shipped quickly and efficiently. If we do not have what you are looking for, we will direct you on where to find it. Give us a try, after all…………..
Ameri-Flex Has The Stuff That Keeps You Going!
Website: www.ameriflexhose.com
About Grand National Trailer -
With 30 years in the industry, Grand National Trailer has based their foundation on the knowledge that in the eyes of a trucker, time is money. To meet this understanding, Grand National Trailer provides prompt, quality and friendly customer service while giving their undivided attention to all jobs until the end."
"Grand National Trailer's goal is to help you to get back out on the roads as quickly and safely as possible, at the best value possible. Grand National Trailer offers a wide variety of services including but not limited to: welding and fabrication; lift gate repair; repairs to a variety of equipment. PM and DOT on trucks and trailers.
Located in the Tulsa Metropolitan area, adjacent to the I-244 and I-44 interchange, Grand National Trailer offers easy access for semis and secure parking. Allow Grand National Trailer the opportunity to meet and exceed your expectations and bring them your repair needs today!
Website: www.grandnationaltrailer.com
---
Submitted By: Elizabeth Davis
Back to News